From Tokyo
Kan-Etsu Expressway -> Fujioka Junction / Joshin-Etsu Expressway -> Shinshu-Nakano I.C. / Route 292 (Shiga Kogen Toll-Rd) -> Shiga Kogen

Chuo Expressway -> Okaya Junction / Nagano Expressway ∙ Joshin-Etsu Expressway -> Shinshu-Nakano I.C. /Route 292 (Shiga Kogen Toll-Rd) -> Shiga Kogen
Kan-Etsu Expressway -> Shibukawaikaho IC -> Naganohara -> Kusatsu/Shiga Kusatsukogen Rout (Closed in the winter) -> Shiga Kogen

From Osaka
Meishin Expressway -> Komaki Junction/Chuo Expressway -> Okaya Junction / Nagano Expressway∙Joshin-Etsu Expressway -> Shinshu-Nakano I.C. / Route 292 (Shiga Kogen Toll-Rd) -> Shiga Kogen

From Kanazwa ∙ Niigata
Hokuriku Expressway -> Joshin-Etsu Expressway -> Shinshu-Nakano I.C. /Route 292 (Shiga Kogen Toll-Rd) -> Shiga Kogen
From Tokyo
Tokyo station / Nagano Shinkansen bullet train 'Asama' (79 min fastest time) -> Nagano station/ Nagano Dentetsu (40 min by express train) -> Yudanaka station / Oku-Shigakogen bus (50 min) -> Get off at Takamagahara

From Nagoya
Nagoya station / Chuo main line express (2hr 53min) -> Nagano station / Nagano Dentetsu (40min by express train) -> Yudanaka station / Oku-Shigakogen bus (50min) -> Get off at TakamagaharaFrom OsakaOsaka station/ Shinkansen bullet train ∙ Chuo main line express (3hr 53min) -> Nagano station / Nagano Dentetsu (40min by express train) -> Yudanaka station / Oku-Shigakogen bus (50min) -> Get off at Takamagahara

From Kanazawa
Kanazawa station / Hokuriku main line ∙ Shinetsu Hon line express (3hr 20min) -> Nagano station / Nagano Dentetsu (40min by express train) -> Yudanaka station / Oku-Shigakogen bus (50min) -> Get off at Takamagahara

Direct bus from Nagano to Shiga Kogen is also available (70min)

Shiga Kogen had hosted various events at the 1998 Nagano Winter Olympics and it is known as one of the best ski resort in Japan.
I hope you will enjoy Shiga Kogen's vast terrain which is one of the largest in Japan and its fine snow condition.
You can also enjoy JIKOKUDANI-YAENKOEN which is chosen as one of the top 30 tourist destination in Japan by oversea visitors.
We also recommend you to visit Zenkoji temple and inner city of Nagano.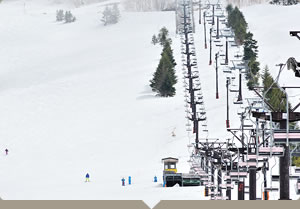 SHIGAKOGEN
Shigakogen offers comparatively long ski season from middle of November to early May. The ski lifts are located just outside of the hotel.

http://www.shigakogen.gr.jp/season/index.html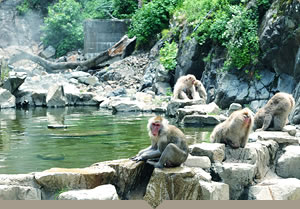 JIDOKUDANI-YAENKOEN
Famous for bathing monkeys, or also known as snow monkey! It's a great visit either you just see the monkeys or have a bath yourself.

http://www.jigokudani-yaenkoen.co.jp/english/html/top_e.htm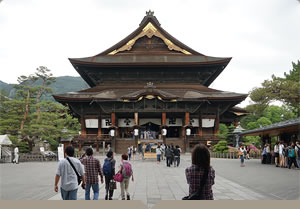 ZENKOJI
Zenkoji temple is a national treasure of Japan. We recommend you to walk through approach path together with the temple itself. Accessible by bus from Nagano Station.

http://www.zenkoji.jp/ENGLISH/about/index.html